U. S. Cavalry, Indian Wars, Springfield Armory, M1880 Hunting Knife with Scabbard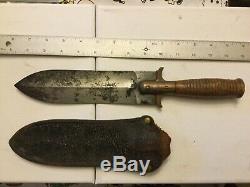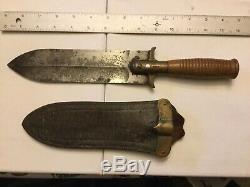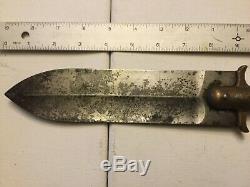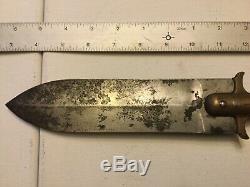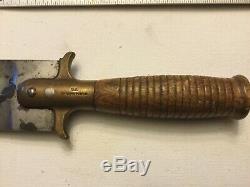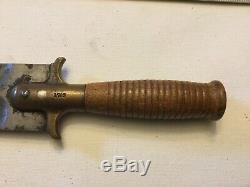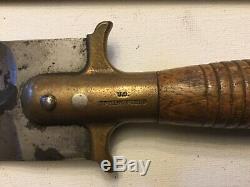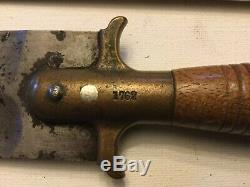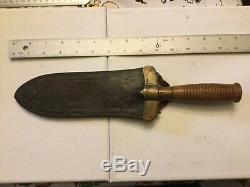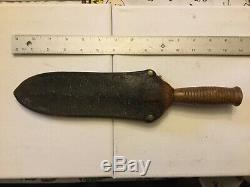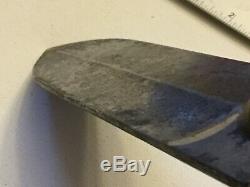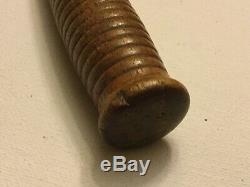 This listing is for the ultimate Indian Wars U. Springfield Model 1880 Hunting Knife measures 13 1/2 overall, and has an 8 1/2 long, 2 wide, single-edged blade - with spear point, wide single fullers, brass guard and turned oak handle. Based on Springfield Armory records, this particular example was manufactured in 1883. The steel blade has a mostly bright patina with some overall dark freckling, staining, and very, very shallow pitting. So shallow that a restoration specialist has advised me that they will polish out to a much brighter looking blade. However, I have not polished or cleaned this knife in any way. In person, the blades surface is smooth to the touch, with no loss of metal and, incredibly, the blade edge has never been sharpened (see photo section). The scabbard, as frequently seen, is w/o belt loop or brass hanger.
A previous owner used saddle soap or another improper leather treatment and both surfaces have leather crazing. Stitching is loose towards the scabbards tip, but solid for the remainder.
Both brass rivets are present and solid, as is the brass throat plate - which displays minor verdigris. The internal steel throat clip, riveted to the brass plate, is sound and the knife enters and exits the scabbard with a firm snap. The brass guard is stamped U. /Springfield with serial number 1762 stamped on the opposite side.
The 17 groove Maple handle/grip has light wear, but no cracks, splits or gouges. There is one small chip on the pommel (see final photo).
One final note: As fearsome and large as this knife is, as noted in the classic M-1880 study, Light But Efficient , it weighs only a mere10 ounces! This is a very nice, early date example of this classic U. M-1880 Hunting Knife Basic Information.
The M-1880 Hunting Knife was designed for concurrent use with the M-1881 and the M-1888 Rod Bayonet Trapdoor Rifles and bayonet-less Carbines, also manufactured at the Springfield Armory. The first 1002 knives were made in 1881 and had iron guards. Subsequently another 9,000 to 10,000 (records vary) were made with brass guards. In 1883, the first 4,000 or 5,000 M-1880 Hunting Knives (including this knife) were made with brass guards, and another 5,000 were made in 1885. All M-1880 Hunting Knives were serial numbered. The knife was used heavily in western outposts, accounting for the wide distribution and usually sharpened or pitted condition found by collectors. The purposes of the knife included skinning game, digging shallow trenches, and clearing brush. Several variants of leather scabbards were designed for the M-1880 Hunting Knife, including experimental versions, and many still exist today. Some are more rare than the knife. Scabbard designations include the leather long- and short-loop, two versions of the brass hook, and the Varney. According to Bernard Levine: The Model 1880 was the first general issue Army sheath knife. As such, it has been the subject of much study, the full story of its development, production, and use, is told in the book. (1973) by Albert Hardin and Robert Hedden. The Model 1880 was designed to serve three functions in the Indian campaigns on the plains: It was to be a butcher knife for cattle and wild game; it was to be an entrenching tool, and it was to be a last-ditch weapon. In the field, the Model 1880's main function proved to be digging fire positions ('rifle pits'), so in 1890 its designation was changed to'Model 1890 Intrenching Knife.
Approximately 11,000 Model 1880s and 500 Model 1890s were made, all at the Springfield Armory. The scabbard were made at Watervliet Arsenal and, later, at Rock Island Arsenal. The Model 1880s are serial numbered in two series.
Reproductions of this sought after knife are common, as are finding legitimate ones with replacement handles. Cavalry, Indian Wars, Springfield Armory, M1880 Hunting Knife with Scabbard" is in sale since Sunday, January 5, 2020.
This item is in the category "Collectibles\Militaria\Indian Wars (1866-97)\Original Period Items". The seller is "knight-pirate" and is located in Cleveland, Ohio.
This item can be shipped worldwide.
Modified Item: No
Country/Region of Manufacture: United States
Modification Description: none

---