Kinfolks USA Camp/Hunt/Fish knife & Orig sheath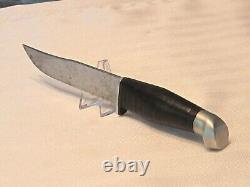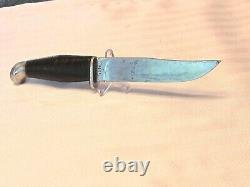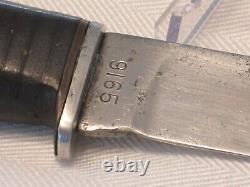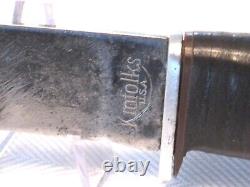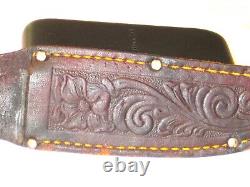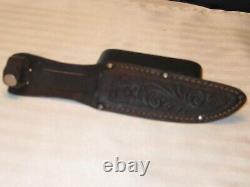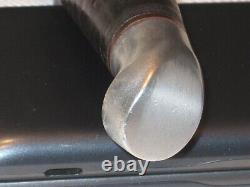 Kinfolks USA Camp/Hunt/Fish knife: Fine example of 1930s standard for quality field knife. Kinfolks founded by relatives of Case Knife owners, organized to manufacture fixed blade knives for Case stamping.
Company also manufactured knives for WWII USA and Canadian military use. Carbon-steel blade has shallow pitting both sides but polishes up to presentable condition, very little evidence of sharpening leaves about 95% of original width.
Stamped front tang shows Kinfolks USA logo, back side shows model number 9165. Stacked leather handle disks seem original, are tight and in original shape. Finger guard is steel, pommel looks aluminum and is fixed as original. Sheath has stamped floral decoration, fits knife as original, has belt loop and snap-strap for knife handle. Stitching is complete, tight, rivets are complete and factory peened.
Color is dark brown, matching handle of knife. Contact me with your choices!

---