Custom James Huckeba Forest Hunter Hunting Knife And Sheath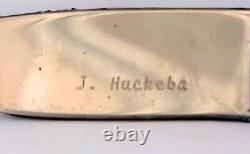 This is a custom James Huckeba Forest Hunter hunting knife and sheath. The blade is made of stainless steel with a straightback type and silver color. The tang is full, and the dexterity is ambidextrous.
The blade edge is plain with a length of 3.5 - 4 inches, and the handle is made of wood. It includes a sheath and features a colored blade. The knife is original and perfect for collectors or hunters.
The brand is Huck, and it falls under the categories of collectibles, knives, swords & blades, collectible fixed blade knives, and modern fixed blade.

---