1890 1906 JOHN NEWTON Vintage England STAG BOWIE FIGHTER, HUNT Knife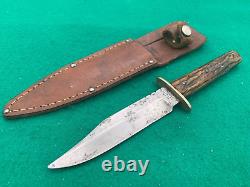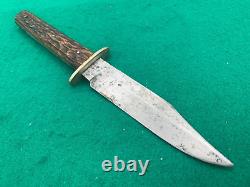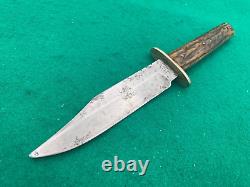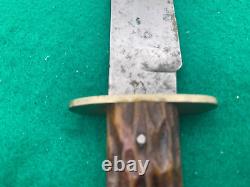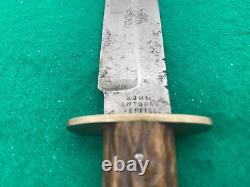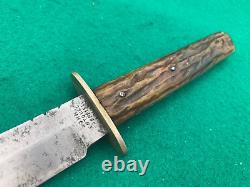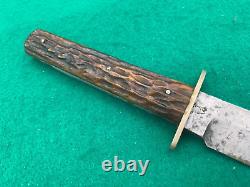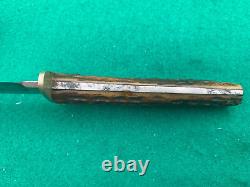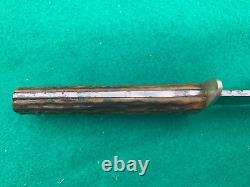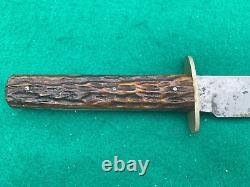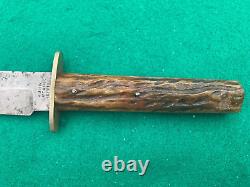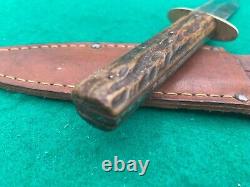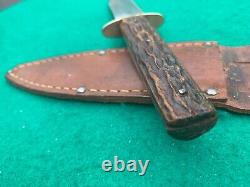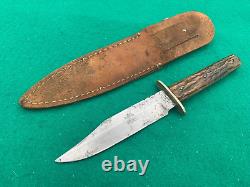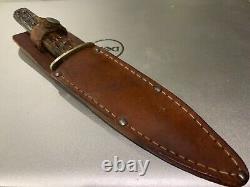 THIS IS A REALLY NICE AND VERY RARE JOHN NEWTON CO. SHEFFIELD ENGLAND GENUINE BONE STAG HANDLED LARGE BOWIE KNIFE. I HAVE COLLECTED THESE TYPE VINTAGE KNIVES FOR A LONG TIME AND THIS IS A REALLY FULL BLADED NICE ONE, ALL TIGHT AND RIGHT.
IT WAS MADE BY AND STAMPED ON THE TANG JOHN NEWTON SHEFFIELD ENGLAND AND ON THE OTHER SIDE IT HAS A FROG STAMPED ON IT (HIS INSIGNIA). IT WAS MADE BETWEEN 1890 AND 1906 ONLY.
THIS KNIFE IS ABOUT AS NICE AS THEY COME FOR ITS AGE OF OVER A 120 YEARS OLD. THE KNIFE IS A BOWIE STYLE FIGHTING OR HUNTING KNIFE AND MEASURES 8-5/8" OVERALL WITH A 4-5/8" CLIP POINT BLADE WITH A 3 SWEDGE OR FALSE EDGE ON THE TOP SPINE (SEE PICTURES). THE BONE STAG IS SIMPLY GORGEOUS, WITH A LOT OF CHARATER AND NO CRACKS, A SURFACE CHIP IN THE REAR, WITH 3 STEEL PINS, ALL TIGHT AND RIGHT. THE BLADE IS VERY NEAR FULL 99.9%, IT DOES HAVE SOME SHARPENING SCRATCHES AND OLD PITS SEE PICTURES. IT ALSO HAS A TIGHT THICK NICKEL SILVER DOUBLE GUARD WITH NO SCRATCHES OR DINGS.
IT COMES WITH A PERIOD CORRECT LEATHER SHEATH THAT IS IN GREAT CONDITION. THIS IS A VERY NICE AND TIGHT VINTAGE SHEFFIELD MADE FIGHTING OR HUNTING KNIFE WITH GREAT BONE STAG HANDLES AND LEATHER SHEATH.

---