Fine 1833-45 Crown Pommel Clip Blade Bowie Knife Stamped American Hunting Knife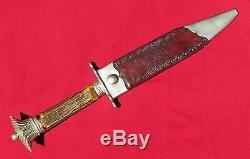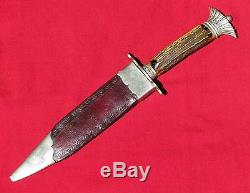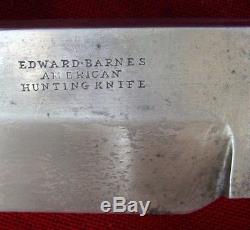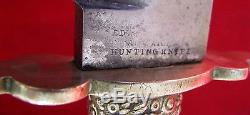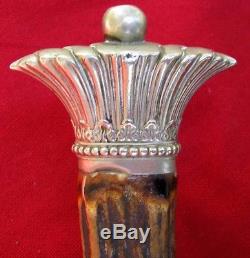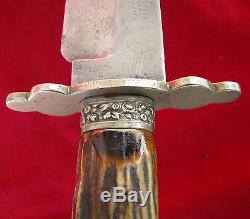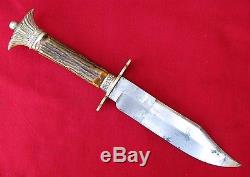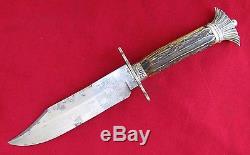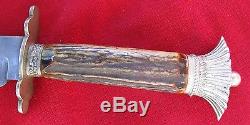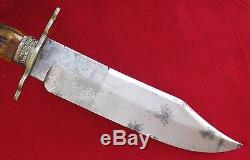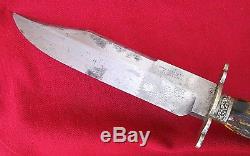 FINE 1833-45 CROWN POMMEL CLIP BLADE BOWIE KNIFE STAMPED AMERICAN HUNTING KNIFE. This item is made from Stag (deer antler).
FINE EARLY FANCY ANTIQUE CLIP BLADE BOWIE KNIFE. WITH A RARE CROWN POMMEL AND "AMERICAN HUNTING KNIFE" STAMPING.
AND ORIGINAL SHEATH BY EDWARD BARNES / SHEFFIELD. During most of the early 1830's to mid 1840's there was little law and order; and it was "every man for himself". Men were constantly at risk of being waylaid by thugs, ner' do goods, thieves, robbers and bandits. Bowies from this period were intended for use as a necessary Side Arm & self-defense weapon.
Men typically carried a cap and ball percussion pistol or a brace of two single shot pistols for self-protection. Even then, percussion cap & ball pistols were prone to misfiring.
Men would typically carry a dirk, dagger or Bowie knife as a Side Arm as primary or back-up weapon until the reliable center fire metallic cartridge firearms were in general use in the 1870's. Thus, these early Bowies fall into the early category of edged weapons made for personal self-defense purposes; and have the accompanying Mano-a-Mano romance and history associated with this early period of American History where Bowie knives were a necessary weapon and accouterment.
All Frontiersmen, Trappers and Sportsmen of this period also carried Bowies for self-protection; and also used them for clearing a campsite and dressing big game. Bowie knives were the rage in America from the early 1830's through the Civil War period. Even though most States outlawed carrying Bowie knifes in the 1840's, Men continued to carry them as a back up weapon and as a necessity; and, Fancy Bowies were a required accoutrement & fashion statement for Gentlemen of means. Sheffield Bowie knives were completely hand forged, hand ground, hand fitted & hand polished by Master Craftsmen who toiled at the same job for decades, using only simple hand tools.
Sheffield was the acknowledged Knife Capitol of the World then, and for several previous centuries. Up until America begin to impose tariffs on imported Sheffield knives in the early 1890's to encourage American cutlery makers, 95% of all knives in America were made in Sheffield.
Even then these Craftsmen were immigrants from Sheffield, hired by American firms. Because of the Edward Barnes Hot Stamping vs.
Edward Barnes & Sons, we know this Barnes Bowie falls in the 1833 to 1845 time frame. This Rare & Early Bowie has several early characteristics; i. The wide thick blade shape, sharpened false edge, thick fancy cross guard, early sheath characteristics, and the known but rare, early flared Crown pommel design. Edward Barnes first appeared in Sheffield Directories in 1833 on Meadow Street. His early knives were marked "EDWARD BARNES".
At the beginning of the 1840's, Barnes moved to Hammond Street. In 1845 he was joined by his sons probably Isaac and Edward jr. , moved the business to 239 Solly Street, and the firm's name was changed to "EDWARD BARNES & SONS".
Barnes was a prolific maker of knives for the American market; especially Bowie Knives before the U. Barnes & Sons were listed in several New York City Directories. In 1853, Barnes & Sons were listed at 6 Platt Street as Importers of Hardware & Cutlery; the same address as Alexander & Barton, also Cutlery Importers. In 1857, this firm was listed under Cutlery Manufacturers at 75 Maiden lane. In 1858 the firm was listed as Importers, but now with a 13 Cliff address, as well as in Birmingham, England. In 1860, the firm was listed as Cutlery Manufacturers with a 68 Beekman address in New York City. Edward Barnes died on October 16, 1880.
The firm was still operating at Columbia Works on West Street in Sheffield in the early 1880's, and the product line now included razors, desk knives, eraser knives and button hooks; a trend of diversification followed by most the leading Sheffield cutlers after the demise of the Bowie knife. The firm ceased all business in 1888.
Sheffield cutlers exploited the burgeoning American market and the associated American Patriotism and Manifest Destiny mindset. During this period, there was little civilization West of the Mississippi river. During the period this Bowie was made, the Alamo in Texas fell in 1836, but the 1846 - 1848 Mexican American War had yet to begun.
Patriotic knife mottos and motifs were popular starting in 1830's through the 1840's; but most designs were etched on the blade (and sometimes stamped on the sheath) in Sheffield during the 1850's period before the U. Some knives and sheaths were embellished by the American retailer; especially after the California Gold rush began in 1849. Thus, hot stamped motifs and slogans tend to be early, and typically date to the 1830's - 1840's period.
This Barnes flared Crown Pommel Bowie is hot stamped "EDWARD BARNES", "AMERICAN", and "HUNTING KNIFE" in 3 lines on both the blade flat and the ricasso, and dates this Bowie as being made between 1833 and 1845 when the firm's name was changed to "EDWARD BARNES & SONS". This Bowie is 14 7/8 overall in the sheath.
The knife is 13 1/2" overall with an early wide & thick style clip blade that is 7 7/16" long X 1 7/16" wide made from thick 1/4" stock. This hefty Bowie weighs 12.8 oz. The clip point blade has a large swedge grind to both the top edges about 5 1/2" back from the tip; and an early style sharpened false edge 2 7/8" at the tip. This early style false edge was factory sharpened, and could also be used as an additional cutting edge when making a return stroke in a knife fight. This Bowie was a formidable and deadly weapon.
The ricasso is hot stamped, "EDWARD BARNES", "AMERICAN" and "HUNTING KNIFE" in a 3-line gang stamp on both the blade flat and the ricasso. It is unusual for a Bowie to be double stamped, and also unusual for a Sheffield maker not to stamp the word "SHEFFIELD" in his Maker's mark. It is obvious that Barnes wanted to create a perception that this Bowie was "American" and was intended for a well to do American Patriot. The blade is full in shape, with the tip very slightly tipped; perhaps 1/32 of an inch. The blade edge is sharp with no large nicks; however when you run your finger along the edge, there is one tiny nick about 2" from the tip, and a small area of a rough edge 3/8" long in the middle of the blade edge.
This patch of unevenness is from naturally occurring aging called "spidering" on the blade edge. There are also a few small scattered dark areas of this aged spidering that are smooth to the touch, but have miniscule pinhole pitting that can be seen under magnification. This Bowie has been lightly sharpened over time, but not in a very long time. Almost all knives have been cleaned, polished or buffed in their lifetime, sometimes, a dozen times; and this blade has a light grey coloration overall with areas of light staining between the ricasso and end of the swedge. Overall, the blade is in very good to excellent condition considering it's extreme age of 170 to 182 years of age.
The early style fancy thick German Silver cross guard is about 3" long x 7/8" wide x 1/8 thick, with the quillons resembling a snowman pattern in profile. Later style cross guards were standardized and typically an oval shape. The ferrule has top and bottom flat bands with a center panel of embossed flowers and leaves. The hilt is made from one piece of select stag (deer antler), purposefully curved for aesthetic purposes and to improve the Bowie grip.
The stag is semi-oval in shape about 1" wide at the pommel and 3/4" thick, and flares slightly towards the crown pommel. The blade tang is secured at the end of the stag, hidden inside the end by the Crown pommel.
The stag has no cracks and a natural aged patina. The ends of the stag are shaped to fit the German Silver mounts.
These worked ends would have shown the white inside of the stag, but were purposefully burnished to create a darken surface to match the brown color of the stag. All natural materials shrink over time; especially stag due to it's porousness. The glazing of the burnished surfaces become brittle, and there are a few small chips to the edge of the burnishing adjacent to the Crown pommel. The Crown pommel design was first seen in the 1830's in Cast hilt fixed and folding Bowie knives.
The hollow stamped German Silver mounts were introduced in the 1830's, and encompassed many different motifs. This large, fancy, flared hollow stamped pommel design is rare, with very few examples known. One was in the Bill Williamson Bowie Knife collection Jan. Another example is shown in the Antique Bowie Knife Book, pages 302-303 on an elegant, hilted with a large piece of natural material pre-1847 Bowie by Wm.
Maker of high grade Bowies backed by numerous Royal Warrants to British Kings & Queens. This fancy, early style hollow stamped German Silver flared Crown pommel design is created in two half shells are that are connected with solder and is fitted to the end of the stag by fitting the base tightly to the stag end. The inside of the Crown pommel was filled with cutler's cement that made the pommel a solid piece that secured it to the inside tang protruding from the end of the stag. There is a small indentation to the bottom edge of the pommel, and a few tiny dings to the Crown pommel. There is a small 1/2 separation of the two half shells of the Pommel at the base of one side.
This naturally occurring split is certainly not distracting to the overall presentation, and the pommel remains securely fastened to the hilt. Very few early 19th Century Bowies have any sheath at all. These thin, delicate cardboard sheaths were intended to get the Bowie out of the showroom, with little regard for being carried daily for decades. This is especially true for Big, heavy Bowies; and when found, these sheaths are usually worn, creased, torn, broken off or discarded; and occasionally replaced with some other sheath or had a hand made, sturdier leather sheath made up during it's period of use. This Bowie also has several early style features in the fine, original sheath.
This unusual early style shaped blade requires a shaped sheath to match. When you lay the early style blade over the early style sheath, the borders are uniform, demonstrating that this is the correct and original sheath. The original cardboard veneer leather covered sheath has several early style features; the rectangular throat end with an applied lip, scalloped mounts, a blunted end to the sheath tip, and an early style of border embossing to the thin leather veneer. The original frog button the first thing to go on an early sheath; but this one is intact and securely fastened. All of these sheath features are early, and en suite to the period.
The sheath overall is in remarkable condition and shows very light wear, has been lightly carried, and is in excellent+ condition for it's extreme age. When sheathed, the blade fits the sheath properly and snugly. The cross guard, ferrule, Crown pommel and sheath mounts all have a nice matching color & aged frosted patina that only comes from 100+ years of natural aging; the condition that advanced collectors love to see. Overall, the Bowie is tight, the blade, sheath and mounts are all in fine matching condition for their extreme age; just what is expected in a well cared for early period Bowie knife that undoubtedly was "put up".
This Early Bowie Knife is for the advanced knife collector; with a rare, fancy flared Crown pommel, AMERICAN HUNTING KNIFE stamping, and the original sheath; all in in fine, matching condition that is rarely offered for sale. This handsome Bowie by a highly regarded early 19th century Sheffield maker has lots of eye appeal, and is for the collector that understands the romance of a rare piece of early Self-Defense Bowie Knife History, and appreciates the investment potential of a Fine Bowie knife made specifically for the 1830's mid 1840's American market. This Bowie would compliment any Bowie, 19th Century Knife, Western Americana, Western, Old West, Hunting, Frontier, Frontiersman, Gambling, Gambler, Dandy, American West, Weapon or Edged Weapon collection. PAPER BANK DOCUMENTS & PERSONAL BANK DRAFTS OR PERSONAL CHECKS DRAWN ON A U.
BANK CONSIDERED WITH PRIOR APPROVAL. The item "FINE 1833-45 CROWN POMMEL CLIP BLADE BOWIE KNIFE STAMPED AMERICAN HUNTING KNIFE" is in sale since Thursday, November 24, 2016. This item is in the category "Collectibles\Knives, Swords & Blades\Collectible Fixed Blade Knives\Vintage Fixed Blade Knives\Factory Manufactured". The seller is "1knifeguy1" and is located in Fairfield, California. This item can be shipped to United States.
Brand: EDWARD BARNES ~ SHEFFIELD
Country/Region of Manufacture: United Kingdom
Handle Material: DEERSTAGANTLER
Blade Material: HAND FORGED ~ GROUND ~ POLISHED
Blade Length: 7 7/16" long X 1 7/16" wide X thick 1/4"
Year: 1833 - 1845
Type: BOWIE SELF DEFENSE WEAPON
Blade Type: CLIIP
Features: ORIGINAL SHEATH
Authenticity: 100 % AUTHENTIC & ORIGINAL

---